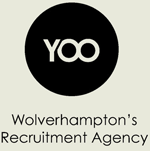 Site under development…
YOO Recruit is the City of Wolverhampton Council's in-house recruitment agency, to deliver temporary recruitment requirements and help local people find employment.
We provide a wide range of temporary roles to the Council including administrators, cleaners, social workers, project staff, customer services as well as other professional roles. We help to find suitable roles and provide advice on improving your chances of finding work.
For more information call 01902 551076
---
© 2022 City of Wolverhampton Council | Privacy Policy